Louisiana College
$2M for Louisiana College
Louisiana College has received a one-time grant for two million dollars from the State of Louisiana to begin a new Allied Health program. The new program will include degrees in the following areas:
Respiratory Therapy

Physical Therapy Assistant

Medical Licensed Technician

Radiologic Technology
Students will be able to obtain an Associates' or Bachelors' degree in all of these areas. Individuals, after completing two years of coursework and completing other requirements for an Associate degree will be able to enter the workforce and help fill the critical need for healthcare professionals in central Louisiana and throughout the state.
Louisiana College is filling a great need in the state, especially the rural areas of the state where healthcare professionals are desperately needed. LC will build upon a solid foundation of academic excellence in nursing and pre-med programs. For decades, the college has produced outstanding nurses and candidates for medical school who have gone on to serve their communities. With this one-time grant from the state of Louisiana, Louisiana College will be able to develop a new academic program that will continue to grow and educate students from across the state.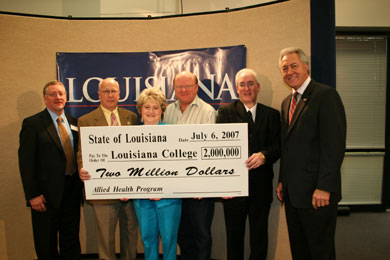 Pictured (L to R): Dr. Joe Aguillard, President, Louisiana College; Billy Chandler, Louisiana State Representative; Mary Moffett, Secretary, LC Board of Trustees; Rick Farrar, Louisiana State Representative; Mark Sparks, LC Board of Trustees & Congressman Rodney Alexander)
The new Allied Health program will begin this August with the fall semester. Students interested in these areas should contact the Louisiana College Office of Admissions for additional information (318) 487- 7259. Individuals who apply to enter the Allied Health program this fall will be eligible for additional scholarships specifically for students in the Allied Health program.
Contact Information
If you have any questions regarding this service, please contact .