New Life Saving Technique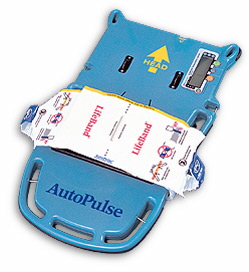 The City of Pineville and The Rapides Foundation have teamed together to bring new life saving technology to Central Louisiana. The Rapides Foundation awarded a $15,000.00 grant in January to the Pineville Fire Department to purchase AUTO PULSE, the most advanced piece of equipment used on patients that are in cardiac arrest.
AUTO PULSE is designed to help with C.P.R. AUTO PULSE will do perfect CPR compressions on each individual patient. The depth and rate are exactly what the American Heart Association recommends for cardiac arrest patients. Fatigue will no longer be a factor, as AUTO PULSE will do all the compressions for medics working on a code patient. The AUTO PULSE looks much like a small backboard. The patient's upper torso fits onto the board and then a 4-inch strap is placed onto the patient's chest. The strap is then fitted to the patient and is sized to fit that particular patient for the proper depth and placement. With each compression, there is a better pulse created than what is done by hand placement. There is an increase in blood flow, which means that drugs that are given to a patient have a better chance of reaching their target organs and tissues. AUTO PULSE has shown an increase in the survival rate of cardiac arrest patients by as much as 26%. The Pineville Fire Department joins Shreveport and Bossier City as the only fire departments in Louisiana to have such technology. The Pineville Fire Department works with Acadian Ambulance on every EMS call within our corporate limits. Pineville's paramedics perform the same life saving skills that ambulance personnel perform. Pineville also has dual response calls with Holiday Village and Alpine Volunteer Fire Departments, and AUTO PULSE will also be dispatched on these calls.
Contact Information
If you have any questions regarding this service, please contact .