Staff Directory - Details
Sarah Smith
Marshal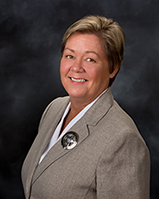 Phone




318-449-5657

Fax




318-445-3225
Mailing Address



P.O. Box 3268
Pineville, LA 71361

Physical Address


904 Main St
Pineville, LA 71360
Primary Department:
City Marshal
Professional Profile
Marshal Sarah Smith became the interim Pineville City Marshal for Wards 9, 10 and 11 following the untimely death of Marshal Larry Jeane in July 2014. For the previous 24 years, Sarah served as Chief Deputy Marshal under Gus Perry and Larry Jeane. She is a long time member of the Louisiana Marshal's Association. She has been instrumental in making the office what it is today, and looks forward to continuing the proud legacy of those who have served before her. Under Sarah's leadership, the Marshal's office will also continue to support local school academic and athletic programs, Senior Citizen's Centers, and the DARE program.
The City Marshal is the chief administrative officer of the City Court. In addition to her experience in the Marshal's office, Sarah also worked in the court system as a Court Reporter, Criminal Court Clerk, and Civil Court Clerk. In the early 90s, she assisted in the formation of the Rapides Parish Juvenile Justice System. Sarah is also a past grant writer for the Rapides Parish Children's Advocacy Center.
Sarah is married to Jeff Smith, a manager at Coca Cola of Alexandria. Her two children, Joey Gross and Cali Gross, are both deputies with the Rapides Parish Sheriff's office. She is a devout Christian, a member of First Baptist Church of Pineville.
Pineville City Marshal Sarah Smith looks forward to continuing her service to the community for many years to come.